ALBUM REVIEWS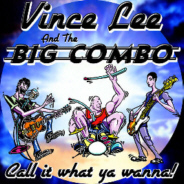 BLUES MATTERS MAGAZINE ("Call it What Ya Wanna!")

17 excellent tracks, playing time 65.01. Now here's a turn up and a very pleasant one too! This band hail from the SW and have been together since 1996 consisting of Vince Lee
[vocals/guitars etc], Keith Russell [drums] and Al Wallis [bass]. Their music spans the good time feel of Blues, R'n'B, swing, jazz etc and comes up real smooth on this album which is all covers. There's plenty of neat guitar from Vince, heartfelt backing from Keith and Al and I'm sure on hearing this that they are an exceptional live act that really give value for money and send their crowds home well satisfied at the end of a varied evenings
entertainment that would endear itself to any age group or surrounding. These guys deserve to be
listened to rather than stuck in a noisy pub although I reckon they'd cope but they'd be just as good on a main festival stage and more entertaining to an attentive crowd. Not usually one for swing style [did not like the Stray Cats music although they were great musicians] these guys impress...easily.. really loved "Sit Right Here", "Can't Get You Off My Mind", "Dallas Texas" and others too many to list...well done lads [but next time let's hear what you can write]....
(Ponch - Blues Matters Magazine June 2003 - Issue 14)
BLUES IN BRITAIN MAGAZINE ("Call it What Ya Wanna!")
There is over an hour's music on this encouraging debut album release. The Plymouth based trio consists of Vince on vocals, guitars and percussion, with Al Wallis on bass and Keith Russell on drums. Songwriters favoured are Little Willie Little John ( Early in the Morning), Jimmy Rogers, Tom Waits, Louis Jordan (two), Colin James, Jeff Turmes, Cab Calloway, Buddy Johnson, Roscoe Gordan, Larry Pindar and Johnny Guitar Watson. Four Lloyd Jones titles are covered, the last of which, surprisingly, is not overlong at nigh on eight minutes, reflecting remorsefully on how "I Broke my Baby's Heart". Vince's readings of Gary Primich's songs stand apart stylistically. "Cold Hand in Mine" is dark and along with "Dallas Texas" these two titles bring the Big Combo's sound right up to present day electric-icity. The end of session slow ballad "I Broke my Baby's Heart" (Jones) is followed, after a slight delay, by the short yet manic bonus track "Somebody Done Hoodooed the Hoodoo Man" (Jordan). Returning periodically to their pre- rock 'n' roll touchstone sound, this seasoned trio venture into dark blues, lively r'n'b, and smooth-ish jazz. This makes it hard to call what they do, and this collection, any one thing - thus the title - yet it is rounded and coherent. Look out for the promised release of original material later this year. (Frank Franklin - Blues in Britain Magazine May 2003 - volume 1/ issue 18)
REVIEW FROM BOBTJE BLUES
(European Blues website)
Vince Lee is a former drummer who played with diverse punk and garage bands. At the age of eighteen he discovered the blues and he formed his first band with the name Vince Lee Blues Band. The repertoire of that band consisted of typical twelve bar Chicago blues and their cooperation would last for nine years. Also, he released a solo album which was mainly based on slide guitar, but later on he applied himself to jump, swing, soul and R&B. When his first band broke up in '96 he had already plans for a totally new concept, and thus The Big Combo was born. This band, named after a film noir, only consist of three musicians. Vince is a blues man, but his drummer Sean May and current bass player Al Wallis are not really blues musicians. However, their energetic youth and their musical backgrounds make the band automatically more accessible to a live crowd, says Vince. The debut album Call It What You Wanna!, released February 2003, is the living prove. There are eighteen carefully chosen songs. Despite the fact that they are all covers, I had no problem listening till the end. The choice of covers is remarkable, to say the least. Highlights are Tom Waits' 'Jockey Full Of Bourbon', Colin James's crossover jazzy 'Satellite' and a gripping version of 'Sit Right here' by Roscoe Gordon. To give you an idea what to expect there is also work by Lloyd James, Cab Calloway, Buddy Johnson and others. Anyone can do covers, but this band does it exemplarily. Their professionalism and the experience of Vince must be the reason for this.
24 SEVEN MAGAZINE ("Call it What Ya Wanna!")
VINCE LEE AND THE BIG COMBO's much anticipated full length album is out this month 18 cuts of retroid R&B majesty and succulent fret-work. Suffice to say , this is fucking wonderful stuff . The playing, as all have witnessed is wholesome and gorgeously crafted. The silky pitch perfect vocals crooning takes you back to an era of dance halls and buntin that you never ever experienced but wish you could. But it's their complete understanding of the music that leaves the biggest impression. Vince is head over heels in love with his sound. Everything else is mere detail. (Backbone)-Twenty 4 Seven Magazine
BLUEPRINT MAGAZINE
Vince Lee and The Big Combo's six track demo CD, reviewed in BLUEPRINT magazine (volume 2 / issue 33 / 2000). Review by R Jim Greaves.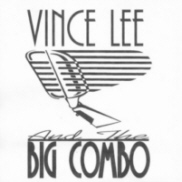 This band hail from Plymouth and somewhat tongue in cheek call themselves the Big Combo - well, there is only three of them! Mind you, they produce a fullness of sound that belies the fact they are only a trio. This six-track demo contains 5 originals and 1 cover. There are a number of different influences on show but 50's R&B is a major one and covers of songs by Amos Milburn, Pee Wee Crayton and Louis Jordan appear in their live sets.
There is an excellent opener in the shape of "Fools Advice", a slinky tune with good wry lyrics and guitar work a bit reminiscent of Johnny Winter (on one of his better days!). "Ain't Steppin' in Your Shoes" is up tempo with a jazzy touch particularly in the rhythm section. There is a neat tempo change halfway through and some good high-speed fretwork is featured. "Made Of Stone" has a mid-tempo 'choppy' rhythm whilst "The Chase" picks up speed and again features some nifty guitar work, Wolf's classic "Howling For My Darling" has a nice different treatment and some tasty guitar too, liked this one. This CD is wound up with a jazzy instrumental called "Emperor's Waltz" (you can guess the tempo of this one!).
Vince's vocals work well and the guitar work is good across a range of styles. The rhythm section is tight but with the ability to show variety and imagination. The songs are generally strong and the band obviously attempt to avoid the stereotyped 12 bar format. Overall an enjoyable CD and definitely a band worth going along to see. (blueprint magazine, 2000)

'ON FIRE'
THE WILDCARDS 2004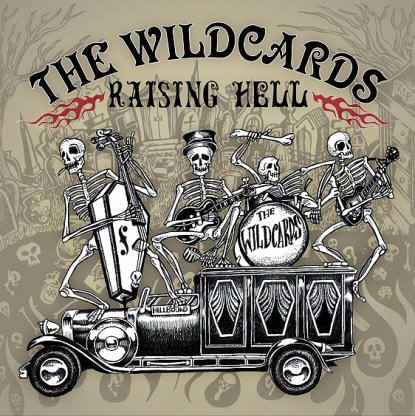 RAISING HELL
THE WILDCARDS 2007
BLUES MATTERS! REVIEW
The Wildcards – Raising Hell (2007)
Listen to the entertaining lyrics or just let yourself go to their urgently-swinging, amazingly-accomplished and undeniably-cool blend of jazz, jump jive, blues and rockabilly, given a wickedly 'voodoo' edge with Louisiana and Caribbean influences bubbling up all over, and you can't fail to be bowled over by its startling originality. This well-recorded CD (a worthy successor to fine 2004 debut "On Fire") captures their thrilling many-layered live sound so well that new delights emerge with every playing and you get the feeling it's never going to be far from your record player.
Their impeccably empathetic playing is enhanced by great arrangements and a unifying concept feel symbolised by the eerie cover drawing of four leering skeletons playing instruments atop an old-style hearse providing fair warning of the dark delights within. At the album's greasy heart lies a magnificently woozy version of the blues standard 'St James Infirmary' with an electrifying half-way lurch into a musical mayhem worthy of Screaming Jay Hawkins or Louis Jordan. Yes, it's that good.

With a striking air of brooding menace, lots of dark humour and an entertaining musical and lyrical wit way beyond most bands, the Wildcards are surely poised on the edge of real acclaim. Listen to the sophisticated calypso and Latin touches on the Squirrel Nut Zippers' 'Hell', the deliriously carnivalesque version of Louis Jordan's 'Run Joe', the scarifying 'Hoodoo Preacher' (composed by harmonica-player Gary Primich, with whom they toured last year), and the suitably staggery rhythms of the band original 'Drunk'. There isn't a weak track on the album, their own material easily matching their well-chosen covers, though they may have saved the best till last with the epic Vince Lee original 'Hard Luck Tale', featuring eerie keyboards from guest Paul Harris. A class act.
Dave Kingsbury - Writer for Blues Matters, Blues In Britain.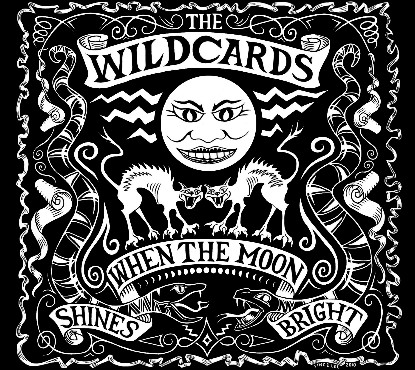 'WHEN THE MOON SHINES BRIGHT'
THE WILDCARDS 2010
The Wildcards 3rd studio album 'WHEN THE MOON SHINES BRIGHT' features brand new material written by band members Vince Lee and Martin Vowles.
The quality of songwriting is stronger than ever on the new record, clearly showing how the band has evolved since their first album 'On Fire' (2004)
The band spent most of 2009 writing and arranging tunes for the new disc taking time out from their usual busy touring schedule to re-evaluate The Wildcards overall direction and it's paid off! There is a much more uptempo feel with less emphasis on the straight ahead blues feel of previous recordings, Be prepared for a Rock & Roll Freak show of dark Cuban rhythms laced with heavy tremelo surf 'n' swamp guitar tones... Killer vintage R&B, infectious jungle swing and nitro-powered rockabilly all delivered with trademark Wildcards retro weirdness. With suitably creepy artwork from the twisted mind of Vince Lee sealing the package, you can expect a more than worthy successor to the bands previous release 'Raising Hell' which Blues Matters Magazine voted 7th best blues album of 2007.

The title track, 'When The Moon Shines Bright' is a relentless, hypnotic rollercoaster of a song written by Vince Lee all about the effects of the full moon on humanity and the animal kingdom. Written as an observation of all the crazy things and strange situations that occur on a full moon... A grinding de-tuned guitar riff drives the groove while chanted lyrics deal with Insanity, jealousy, sexual tension, violence and greed. All the good shit!
'Welcome to The Snakepit' a Vince Lee original with a seductive Eastern vibe. Vince tells the story of a musicians downfall while his guitar leads the way like a medicine show snake charmer. An epic recording with a highly descriptive story-line written in the classic calypso tradition.
Martin Vowles wrote and plays lead guitar on the slightly sinister 'Django on acid' instrumental 'Dead Cat Bounce' which would have made the perfect sound track for some weird 50's B-movie. He also wrote the surf guitar influenced 'Out of Control' A bass and drum stand-off which features Al Wallis punching out a particularly nasty groove on the Fender bass locked in tight with Kevin Crowe's signature 40's style jungle drum stampede.

All this served up with a bunch of obscure vintage tunes such as 'Doing the Chocolate' Shake' by Duke Ellington, re-worked from the original big band arrangement and stripped down to it's dirty bare bones, a song with some very dark lyrical undertones... Pretty risque for the 1930's you might say! The Wildcards invite young female vocalist Becca Langsford to sing on their version of Ruth Brown's 'Big Sweet Baby of Mine' a rocking track from the 50's full of handclaps, doo-wop and a very cool way to showcase Becca's awesome vocal talents. Time to shake it all up with a kick-ass rendition of Little Ike's 'She Can Rock'. Vince screams out those Little Richard inspired vocals the only way you can... Like he's possesed by Satan himself! He takes a well deserved breath to join Martin Vowles in a full on rockabilly guitar pile-up, a full 2 minutes of rockin' kick! Next up is 'Gal From Kokomo' a West Coast jump blues classic from Roy Brown, fat guitars replace the tenor and baritone saxes of the original version. The Wildcards prove they can still knockout a swingin' punch if the situation arises. Guitar Slim's 'Got Sumpin' For Ya' takes the mood into early 50's rhythm & Blues teritory. Vince's outrageous guitar solo mimicking the original's 'over-amped' 'Too loud in the mix' qualities to chaotic perfection. Primitive Rock & Roll at it's finest! Time for a little controversy with our next selection, 'Women Are The Root Of All Evil' An overlooked gem from the 1950's by Paul Willams featuring off the wall guitar chops and a lot of tongue in cheek gospel testifying. Make of it what you will... Praise Them Roots!

The Wildcards will be setting off on tour around The UK and Europe to promote the new release in February/March 2010
SOME RECENT REVIEWS FOR 'WHEN THE MOON SHINES BRIGHT'


Every now and then you get to listen to a cd that instantly has your attention. This is one of 'em. The Wildcards are a British band that releases their 3rd studio album called
"When the Moon Shines Bright". Filthy, horny and gritty are the keywords with this band, that not only consists of a few good instrumentalists. They sound like a tight unit that will do well in any bar, as long as it's in a Robert Rodriguez movie.

Listening to this album I am taken from genre to genre without being an undecided mish mash of genres: Rockabilly, touch of Dub Reggae, Ska with some Westcoast Swing and a touch of Horror Surf to top things off. There's been a lot of writing about the new generation of blues musicians that have the fire and passion that older musicians lack.
These guys don't look like 20 somethings to me but the devilish energy drips from my speakers, the music is that filthy and passionate.

Together with Nick Curran's "Reform School Girl" this is already one of the best releases of this year. I hope the year will continue in this manner, and let one of those releases please be one of singer Becca Langsford. I just love her vocals on the track "Sweet Baby of Mine"

"Thank you Sir may I have another?"

Some highlights for me:

When the Moon Shines Bright: Spooky intro and track that should make it to the soundtrack of HBO hitseries "True Blood"

Chocolate Shake: Wonderfull filthy rendition of the Duke Ellington classic

Gal from Kokomo: That's the way to cover Roy Brown these days! No sissy dancesteps in your bright colored zoot zuit Swing music, but but gritty and wild!

Marcel "De Schuur" Schuurman, April 30th
Review Squad - http://www.bluesforum.com/
_______________________________________

The Wildcards - When The Moon Shines Bright
This English quartet are mostly known to fans of rockabilly and yet their music is full of blues and surf accents. The Wildcards were formed in 2003. They were born from the ashes of two talented bands, Vince Lee & His Big Combo and The Nightporters. The singer / guitarist / multi-instrumentalist Vince Lee and Al Wallis on bass joined together with guitarist Martin Vowles and drummer Kevin Crowe. "When the moon shines bright" is their third album. It follows "On fire!" published in 2004 and "Raising Hell" in 2007.


Vince Lee is clearly a character haunted by his strings. He immediately lights an incendiary to start his "When the moon shines bright", a devastating firebrand. His vocal delivery is hypnotic. His lyrics deal with the influence caused by the moon on humanity and the animal world and the atmosphere is strange, even morbid, the guitars are ominous, the drumming is powerful and ruthless. And this dark tension holds right to end of the album.


Next is another truth?: "Women are the root of all evil". Written by Paul Williams, the track plunges us back into the fifties. Vince Lee ands Martin Vowles are fine guitarists, their swing is very natural. Moreover, we must recognize that the four wildcards are brilliant musicians and they are able to adapt well to all the styles developed on this album. "She can rock" is macerated in an atmosphere of pure rock'n'roll. Vince's angry voice recalls Little Richard, the guitars are wild, and hot right to the end.
Incorporating elements of jazz in their expression is very interesting. Moreover, their version of "Chocolate Shake" by Duke Ellington is simply remarkable. Vince Lee playing the kazoo just like he's blowing a muted trumpet. Vowles hits the strings in a gypsy style, even glancing towards the technique and the sensitivity of Django Reinhard. "Got Sumpin' for you" was written in the early 50s by Guitar Slim, this is an a very personal R&B adaptation, drawn mostly from rock and roll and doowop, it highlights the guitars very clearly.
Throughout the instrumental "Dead cat bounce, Vowles again displays his incomparable instrumental technique, the swing simply shines. It's musical theme seems to be borrowed from the soundtrack of a feature film of the past.


"Gal from Kokomo" is a West Coast jump tune, written by Roy Brown. This is translated into pure rockabilly. The two guitars provide the perfect part that was originally reserved for saxophones.


Young English vocalist (Author's note: a friend of the band!), Becca Langsford has been invited to perform "Sweet Baby of mine", a delicious foray into R & B, popularized at the time by Miss Ruth Brown. Swing, doowop and gypsy guitar accents dominate the tune.


There are other curious components to the album, from the pen of Vince Lee we get, "Welcome To The Snakepit", it takes us to the heart of a dense Eastern universe. This excellent album ends with an hypnotic, tribal and percussive version of "Women are the root of all evil" ...


www.musiczine.net
__________________________________________________________________


THE WILDCARDS
WHEN THE MOON SHINES BRIGHT
Release: February 22, 2010
Text Jeroen Bakker


The Wildcards are from the UK and since their inception in 2003 have previously released two albums. Unlike their Eastern neighbors, The Wildcards stick mainly to their own material and sound all together a lot more 'mean'. 'When The Moon Shines Bright' starts with a wailing feedback siren before the rock'n'roll freak show starts. The full moon does indeed appear to have an effect on these people. With 'Women Are The Root Of All Evil' they may indeed deter a potential part of their audience, but heck ... 'She Can Rock' rips it up and all is well again. Compared with earlier work, this album has more up-tempo tracks and slightly less emphasis on the "blues". 'Out of Control' is launched to an old-fashioned jungle-beat and has it's rudder reversed halfway through to finish on a languid reggae rhythm, the guitars are almost warped by the tremolo use, this is surf 'n' swamp and intense rockabilly all in one. We hear Eastern influences in 'Welcome To The Snakepit', and with 'Dead Cat Bounce' we return to the B-movie soundtracks of the fifties. In Duke Ellington's 'Chocolate Shake' The Wildcards recreate their own big band arrangement with guitars without losing the attractive vintage sound. Becca Lansford, (who sings backing vocals on the album), provides the excellent lead vocal on 'Sweet Baby of Mine'. The album is closed in recapitulation with an A-cappella version of the controversial 'Women Are The Root Of All Evil' from the fifties. A performance that would even make Screamin' Jay Hawkins tremble!


With 'When The Moon Shines Bright', despite it going far beyond just rockabilly, it would not be surprising if this third album by this British group takes advantage of the renewed interest in this music.
LIVE REVIEWS
THE WILDCARDS AT ASHBURTON BLUES FESTIVAL 2008
"The Wildcards opened this year's Ashburton Blues Festival and people who'd never seen them before were absolutely knocked out by their music and stage presence. The Wildcards front man, guitarist and singer Vince Lee, is an astounding performer. He puts out enough energy to light a small town!".
Ashburton Blues Festival, UK

Those of you that saw and heard this stupendous band at the Ashburton Blues Festival will know how truly incredible their mixture of Rockabilly, Blues, Jazz, South American, Rhumba, and pure Voodoo is. Frontman Vince Lee is one of the most electrifying performers around. He blew the audience away in the Town Hall
Michael Cranmer - Ashburton Blues Festival

"Holy Explosion! The Wildcards of Britain have such a deal in their hands, that even most hardboiled gambler on the other side of the table would be scared: two first-class guitarists, rhythm section tight as a hell, singer capable for full range of expression and bunch of original songs full of addictive hooks."
Blues News Magazine, Finland
PLYMOUTH MUSIC COLLECTIVE 20th ANNIVERSARY GIG
VINCE LEE & AL WALLIS
The White Rabbit, Plymouth - 19th January 2008
VINCE LEE stomping all over the blues like the modern day legend that he is, seated, accompanied by ever-reliable bassist, AL WALLIS and playing a well-bashed Stratotone, Vince's total command of the fret-board and rough-hewn voice is something that many greats take a lifetime of self abuse and world-weariness to attain. Very humbling
24-7 Magazine (Backbones Racket from The Pit) Feb 2008
RHYTHM & BLUES WEEKEND @ Cricket St. Thomas Hotel – 7-9 Nov., 2003
Those of us who left last night's jam before it finished at 04.30 a.m. were able to enjoy a superb Sunday afternoon set from Vince Lee & The Big Combo with a clear head! And you needed one to keep up with the stunning guitar playing of Vince who catapulted through some great rockabilly blues looking like Gene Vincent in his hey-day. An exceptional trio – well worth keeping an eye out for. As reviewed by Blues Matters magazine.
Excerpts from the Plymouth Evening Herald Music Page. Reviews by Clare Robinson.
"Bluesman Vince Lee must be one of Plymouth's best kept musical secrets. A top quality guitarist - by any standards - with a soulful voice which could convince you he's a true US original"
Evening Herald January 26 2001...
-"No city blues session could be real without Vince Lee and the Big Combo, who are not only the foremost blues ambassadors in the area but are forging a reputation as one of the finest blues outfits in the country. Vince and co hit the national airwaves with a session on BBC Radio 2's Paul Jones Blues Show last year, after which the band played major UK blues bars and festivals to great acclaim. Vince has a technique and feel for the music unequalled by many outside the Mississippi Delta and is ably supported by the rhythm section of Al Wallis on bass and Keith Russell on drums."
'A Classic Night Of Rock'...
- "Calvin Jones appeared at the Cooperage last Wednesday, for one night only. The evening got off to a flying start with local star Vince Lee bashing out an emotional and convincing authentic blues set. The three piece Combo is as tight as a high wire and Vince's performance was compelling and extremely competent. The man knows his stuff and looks the part, and he enthralled a critical crowd that included a large contingent of local musicians. If you haven't already seen the Vince Lee Combo do make the effort soon"
Go and see him while you still have the chance"...
"If you were to wander into the Boringdon Arms in Turnchapel this Saturday night and hear music wafting from the depths of the pub as you made your way to the bar, you could easily be fooled into thinking that one of the blues men from across the big pond was making a guest appearance. Vince Lee sounds just about as authentic as you'll get and he's a young white Plymouthian who belts out the blues with all the soul and feeling of a black man born in a ghetto. So look out blues and quality music-lovers - this guy Vince really is the business and one day he may well move onto bigger things. If you want to experience this talent at a pub near you, go and see him while you still have the chance"
Regent's Park Jazz Festival 1999...
A fiery mixture of blues, rhythm and blues, and soul. Playing live in London for one night only!
(Royal Parks Jazz Season, Regents Park, London)
Virgin Mega Store...
Mid-day is an early start for most musos, but it did'nt faze Vince Lee & the Big Combo, who delivered their brand of blues/swing with their usual professionalism and passion.(P.M.C Studios compilation launch @ Virgin Mega store Plymouth. 03.06.00)
P.M.C Showcase at The Candy Store...
...Vince Lee & the Big Combo followed, and the crowd loved them. What more can you say? These guys kick ass and pretty soon everyone will know about it.(P.M.C Live @ The Candy Store Plymouth 16.06.00)
Credit where it's due...
It's five years now since I first saw Vince, belting out blues in a tiny pub to a handful of bemused onlookers . Even then he had all the conviction and talent of an American blues natural, but few appreciated his style. Audiences often demanded obvious blues standards which Vince steadfastly refused to play. On Friday it was heartening to make the comparison with those early days. Now as well as being a virtuoso player he has become a consummate performer. He has developed an imposing, expressive and energetic stage delivery complemented by his excellent rhythm section of Al Wallis on bass and Keith Russell on drums (full marks for standing in at short notice)-The Big Combo. And to appreciate his inventive style of jazzy blues swing, belting blues ballads and hard driving boogie was a sizable crowd of fans, many of whom strutted their stuff on the dance floor. Since appearing on the Paul Jones Show on Radio 2, and getting a foot in the door on the national circuit there should be no looking back for Vince Lee & the Big Combo.
Best kept secret is set to be big...
There is no reason why Vince Lee & the Big Combo shouldn't be able to follow Devon blues masters the Nightporters to become a permanent fixture on the UK and continental blues circuit. For the moment they are still playing local pub venues-but for how much longer?
(Plymouth Evening Herald, Clare Robinson)
Vince brings a bit or the Devil to Coxside...
Electrifying blues will be howling out of Coxside tonight when Vince Lee & the Big Combo play. The shockingly good guitarist plays like he's got the Devil in him. So if you like your blues filled with aggression pain torment and some wild, wild licks, he's your man.
(Plymouth Evening Herald, Clare Robinson)
P.M.C blues cruise 14th July 2000...
You might think we are over exaggerating here, a blues band from Plymouth who are up there with the best of them. Surely not. Well you'd better believe it. Vince Lee & the Big Combo are one of the hardest working bands in the Southwest at the moment, and it seems that every time they play they win audiences over by the bucket load. People are constantly telling me, as if I did'nt already know, just how good this band is, and let's face it, given that it's a thoroughly tried and tested format, you have to be good.
The great thing about this gig was that there was no messing. Even though the boat turned up three quarters of an hour late, the band set up in no time and without the benefit of a sound check, still sounded great from the first beat of the first bar of the first track. Vince has perfected the art of making his guitar and his voice sound like one instrument, guitar chugging away behind his gritty soulful voice and then oozing out in all the right places with a collection of low-down and dirty licks to die for. His partners in crime in the Big Combo, Al Wallis on bass and Sean May on drums, provide a solid base throughout, never missing a beat, driving Vince along and getting a chance to stretch out themselves on their own solos.
The most enjoyable part of the night for me was the atmosphere. You can't really beat gigs where by the end of the evening there is no dividing line between the band and the audience as they sweat it out together. Encores were demanded and there was no way the band would have got off the boat without playing them.
PMC Newsletter
Hey, we didn't write it!!
Old style blues with contemporary rhythm backing is wasted on beer-supping regulars at the Thistle and the Millennium Bridge. Such gigs provide them with nothing more than (badly) paid rehearsal time. This is a band who deserve to play to real music lovers, people who will appreciate them for the musical talent they really are. The future's bright, the future's blues. Catch them whilst you can.
(The Scene magazine. Bazz)
FAN'S REVIEWS & COMMENTS
Hi Vince,
I received the CD last week and would just like to say thanks and congratulations. That is possibly the greatest CD I have bought in a long while.
The arrangement of Sit Right Here is outstanding. As is Satellite and Dallas Texas.
Christian McKay
Hi Vince,
Saw your gig in bristol... loved it!!! would love to know when you are playing next up here.. i bought your cd when you was up here.. can't get your songs out my head. love to play it at work too.. lot of interest with peeps at work.. reet petie and gone!! shit man awesome!! that little bastard rattles round my head so bad!! But hey can't help getting excited about seeing
a real band playin real music.. i'm not usually that bad. just a few too
many pints of stella and im reet petite and gone!! seen you so many times down
in Plymouth. and was always quite controlled, I was truely inspired by
the presence of the band...
Ben Taylor
Your Amazing Album!

Vince, Al, Keith,

Wow, wow, and wow again. It's playing as I write and it is rich guys. You have produced an album to be proud of, it is an astonishing achievement to hang on to your beliefs and not follow the slick path to success, but if there is any justice in this world then surely the news of what you guys do will spread like wildfire through the music world and you will step up to the platform you deserve. We often say that you should have been the main act on the main stage at Bishopstock and your album will surely prove it to the likes of Paul Jones etc. etc.
The gig last night was wild, even Keith's broken snare and Al's broken fingers couldn't stop you and I guess that is a sign of the times, we only hope that as you continue to achieve the success you deserve you will still play around this area. Anyway mate, congratulations on a wonderful day and a fantastic album. You have made a significant contribution to whatever you 'wanna' call it. Whatever it is, Juliet and I love it.
All the best.
John & Juliet.
Dear Vince,

My dad sent me a copy of your album out to Australia
where I live now. It is brilliant, really brilliant so
thank you for putting down on record what we have all
loved for all those years.

I have a mate who owns Bondi FM, the local radio
station in the Eastern Suburbs of Sydney. I have given
a copy for him to play on radio so hopefully before
too long, you will be being played on the other side
of the world.

Hope you dont mind!

Cheers mate, and keep it coming!!!
Vince Lee & the Big Combo
Call it what ya wanna! by Ralph Angel
Having seen this awe inspiring lot live many a time, it was interesting to see what they would come up with on an album, and here it is!
And I would have to say this album is amazingly cool !
It has many embellishments added (backing vox, extra guitar tracks etc) but still keeps the feel of a live gig.
There's no lack of variety with Swing classics such as Cab Calloway's "How big can you get" and Colin James's "Satellite" (which is surely better than the original !!!). I can't listen to these without tapping my foot or rockin' my head side to side !!! Then "Jockey Full of Bourbon" and "Dummy on My Knee" which have a more Latin feel and some nice guitar sounds. This album has it all, Funk Blues/Country Blues/Blues Blues you name it, DOES WHAT IT SAYS ON THE TIN, MAN !!!
Not only that it's all played to the highest order, With Guitar playing from another universe, bass & drums that are very much in the groove of the music, every instrument complements the other.
You could put any of these songs on a compilation album with the likes of Louis Armstrong, Louis Jordan, John Lee Hooker etc. and would not only look in place, but would possibly shine as some of the stronger tracks on the album !
If you haven't purchased, "Call it what you wanna!" yet. do so, you'll search globally long and hard to find anything like this. That's no exaggeration !
<![if !vml]><![endif]>PMC SNAPSHOT MAGAZINE INTERVIEW
From the Plymouth Musicians Co-operative Snapshot Magazine
The Plymouth Musicians Co-operative is releasing a free one off magazine and CD to capture a snapshot of Plymouths music scene at the end of 2003. Vince and Al we're recently interviewed for the magazine. The disc will include a brand new track by The Wildcards. Look out for the PMC's Snapshot magazine at selected music and record stores around the Plymouth area throughout December..
(find out more about the PMC here)
Vince Lee and Al Wallis are well known on the local circuit as two-thirds of Vince Lee & the Big Combo, and they have just formed a new band called The Wildcards with ex-members of The Nightporters. I spoke to Vince and Al at PMC Studios about their musical projects and kicked off with asking them how they got into music in the first place. Bearing in mind the feature on youth music elsewhere in this magazine, Vince's response says a lot about how music education has progressed over the last 20 years. As Vince explained, "I picked up my first guitar at age 10. After nagging my mother I got my first guitar of my own at age 11 and just started messing around trying to get bands together, playing a bit of everything like drums, keyboards – anything I could get my hands on. I tried to get my school (Whitleigh Secondary School – now called Sir John Hunt Community college) involved and into the idea of doing something more interesting than Beethoven and stuff. It was a big struggle. The teachers at that time didn't want to hear about it, insisting that they stick to the curriculum. I had a lot of trouble with people trying to put me off so I suppose I didn't really get serious about it until I was about 15 or 16. By the time I left school I starting realising that I had to find something better to do than just make a noise all the time so I started looking for something to get into and stumbled across Rhythm and Blues. That's when I started playing guitar in a band and getting a few people together and we used to rehearse at PMC when it first started."
Vince pointed out that he first started off playing in punk bands – something that he had in common with bass player Al Wallis. As Al tells it, "I also came from a punk background and was really into the Stranglers so I suppose Jean Jacques Burnel was an influence. I used to hang around The Swan in Devonport watching bands like the Legal Eagle Blues Band with some mates and we ended up forming Tornado Express. We really learnt a lot from the late PD Williams who was the keyboard player in the band for a while. He really took us under his wing and I owe a lot to him". When it comes to other guitar players, Vince is keen to point out that there's a whole melting pot of influences that have enabled him to come up with his own distinctive style. "I'd just jump from one person to another over the years and pick up stuff all the time. There's so many that I can't really mention anyone in particular. I think that's why I don't tend to sound like any one person. I just take it all, chuck it in a bag and pull it out of my brain when the time comes. I don't analyse it too much or think about it."
The Big Combo has picked up a large following since the band was formed in 1996 with their mixture of blues, jazz, swing and R&B. Locally, they cite the Millbridge in Plymouth and The Rod & Line in Tideford as two of their favourite places to play and they have proved extremely popular on the UK festival circuit. They have also performed live on Paul Jones BBC Radio 2 blues show after he heard a demo recorded at PMC studios. So does the formation of The Wildcards signal the end of the Big Combo? Vince explains; "The Big Combo will carry on doing what it has been doing but we are looking to go further afield with the Wildcards. Martin Vowles (rhythm guitarist) runs an agency that bring a lot of US bands over to Europe so he's got really good contacts."
One thing for sure is that Vince Lee & the Big Combo have rejuvenated the blues trio format and reintroduced a whole range of music to people who might have thought it was way past its sell-by date. The fact they sold over 70 copies of their PMC recorded debut album, "Call it what you Wanna", at the launch gig for the CD back in the spring bears testimony to their popularity.
Interviewer: Rob C.
(find out more about the PMC here)